---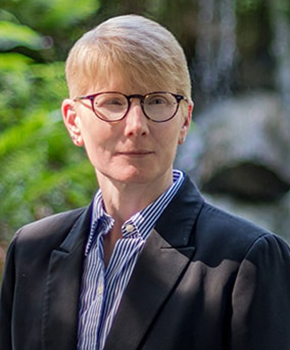 Welcome to Green River College! On behalf of our faculty, staff and administrators, I want to thank you for considering Green River College as your educational partner and the pathway to your educational and career goals. We look forward to working with you each step of the way!
Green River College is a place that empowers all students from diverse backgrounds to navigate their educational and career pathways. Whether your goal is career and technical training, academic transfer, gaining skills to enhance your current employment opportunities, or enriching your life through life-long learning, we have a place for you at Green River College. Our College is known for student engagement, student-faculty interactions and supportive learning environments. We provide a caring, supportive and nurturing learning community where dedicated and knowledgeable faculty and staff are committed to your future and success.
For over 50 years, Green River College has had a tremendous impact on our vibrant surrounding communities serving the citizens, local industry and above all else, the students of South King County. As our community has globally expanded Green River College has become a top destination for many international students. Our College's success is demonstrated through the thousands of students who find a home at Green River College every year and successfully go on to achieve their educational and career goals for employment both inside and outside the state of Washington. I know that you can be part of this story of success as we support you to achieve your dreams.
I invite you to visit our beautiful campus. Take a tour to see our classrooms and hands-on laboratory and training facilities. Talk to our students and dedicated staff and faculty to experience our wonderful learning community. With campuses in Auburn, Enumclaw and Kent, there is a branch of Green River College is close to home and ready to provide you with the pathway you seek.
To learn more about the College and services for students, program and career opportunities please visit and explore our website at: www.greenriver.edu. While at our website schedule an on-campus visit. We are eager to meet you!
Best wishes for your success with your future educational, career, and personal goals.
Pictured: Dr. Suzanne Johnson, President
Green River College Board of Trustees
The Board of Trustees for Green River College is composed of influential community members who reside within the college's District 10 service area. Trustees are volunteers who serve a five-year term, by appointment of the Governor.
Trustees bring a rich diversity of backgrounds and skills to the governance of Green River College. They serve as an important communication link between the college and the community. All trustees sit as members of the Trustees Association of Community and Technical Colleges. This association is comprised of trustees from the 34 community and technical colleges statewide.
The Green River Board of Trustees meets every third Thursday of the month on campus in the board room of the Administration Building. These monthly meetings are open to the public. To learn more about the Green River Board of Trustees, visit: greenriver.edu/campus/board-of-trustees/.
Pictured (left to right): Board Chair Jackie Boschok, Trustee Vice Chair Arlene Pierini, Trustee Sharonne Navas, Trustee Linda Cowan, Trustee Elaine Chu
About Green River College
Green River College is a public two-year college where students from all over the world come together to learn, grow and enrich their lives. Green River's main campus, founded in Auburn's Lea Hill neighborhood in 1965, stretches over 180 acres of beautifully forested land. Branch campuses, located in downtown Auburn, Kent and Enumclaw, bring the college's unique educational experiences to local communities. The median age of Green River students is 27. More than 10,000 students, both full and part-time, attend Green River annually.
At Green River, students can choose from a wide variety of transfer degrees to four-year colleges and universities, bachelor of applied science degrees, more than 40 career and technical programs, pre-college and basic skills and continuing education programs. Top transfer programs include business, engineering and liberal arts, as well as offering a wide variety of other majors in sciences, humanities and social sciences.
Green River has its own student housing complex. Students enjoy a convenient, on-campus location with comfortable, high quality facilities, an excellent study environment, and an opportunity to get involved and make friends in a supportive community.
Students at Green River are encouraged to get involved and fully engage in the college experience. Many student clubs and organizations are available including musical, athletic, cultural, educational and degree-specific opportunities like the college's newspaper The Current and broadcasting on our student-operated radio stations KGRG and KGRG.1.
Strong academics, solid student services, a diverse and lively campus community and state-of-the-art facilities combine at Green River to provide students a one-of-kind education with lessons that will stay with them throughout their lives.
Vision, Mission, Themes
As reaffirmed by the Board of Trustees March 26, 2013.
Vision
The vision for Green River College for 2020 is:
To be ranked among the very best in student completion and success and be an invaluable community partner and asset with robust and diverse revenue streams.
Mission
The mission of Green River College is to:
Ensure student success through comprehensive educational programs and support services responsive to our diverse communities.
Core Themes
Green River's mission recognizes the college's commitment to instruction and the success of all students regardless of their skill levels and education goals. The college has identified four core themes to further define the mission which are used to assess institutional effectiveness.
Career and Technical Education - We train learners for professional and technical career readiness, transitions and advancement.
College Transfer - We provide programs and services to ready students for transition to and success in future degree programs.
College Readiness - We offer pre-college programs and services to equip learners for successful transition to college.
Continuing and Community Education - We demonstrate ongoing commitment to the professional, social and personal enrichment needs of our community.
Purpose
Green River provides learning opportunities for the residents of Washington and operates in accordance with the state of Washington's Community College Act of 1967.
Role, Scope And Values
Role And Scope
Green River offers courses and programs leading to a variety of associate and bachelor of applied science degrees, certificates and diplomas in career and technical fields and academic transfer. The college also offers customized training, developmental and basic skills programs, as well as a variety of noncredit activities and courses for personal enrichment. Students can choose to enroll at the main campus in Auburn, or one of the three branch campuses located in downtown Auburn, Kent and Enumclaw. Green River also offers a variety of support services to currently enrolled and prospective students to increase their chances for success.
Core Values
We, the faculty, staff, administration and Board of Trustees of Green River, embrace the following values and beliefs:
Student success - We support student engagement, retention, completion and post-program success through excellent teaching and learning and comprehensive support services.
High quality - We provide high quality in teaching, learning and support services in an environment of compassion and integrity.
Student access - We meet student needs for access to and inclusion in their educational pursuits.
Community engagement - We collaborate, stimulate and contribute to the educational, economic and social development of our external and internal communities through continued learning.
Equity - We encourage, foster respect for and respond equitably to diverse perspectives and needs.
Global awareness - We foster citizen responsibility by cultivating a global perspective on critical issues and challenges affecting our community and the world.
Stewardship - We strive to maintain sound financial management, increase effective and efficient operations, develop state-of-the-art infrastructure (to include staffing, technology and facilities), and be forthcoming and transparent in accountability for resource use.
Innovation - We seek to encourage, create and adopt innovative perspectives, policies and practices that will help achieve the college's mission.
Campus environment - We preserve the safety, ecology and sustainability of our campus environment.
Accreditation
Green River College is accredited by the Northwest Commission on Colleges and Universities.
Accreditation of an institution of higher education by the Northwest Commission on Colleges and Universities indicates that it meets or exceeds criteria for the assessment of institutional quality evaluated through a peer review process. An accredited college or university is one which has available the necessary resources to achieve its stated purposes through appropriate educational programs, is substantially doing so, and gives reasonable evidence it will continue to do so in the foreseeable future. Institutional integrity is also addressed through accreditation.
Accreditation by the Northwest Commission on Colleges and Universities is not partial but applies to the institution as a whole. As such, it is not a guarantee of every course or program offered, or the competence of individual graduates. Rather, it provides reasonable assurance about the quality of opportunities available to students who attend the institution.
Inquiries regarding an institution's accredited status by the Northwest Commission on Colleges and Universities should be directed to the administrative staff of the institution. Individuals may also contact:
Northwest Commission on Colleges and Universities
8060 165th Avenue N.E., Suite 100
Redmond, WA 98052
(425) 558-4224
www.nwccu.org
In addition to the institution being accredited, several Career and Technical Education Programs have earned special accreditation or recognition in their field of specialty.
Specialized Program Accreditation
The Practical Nursing program is approved by the Washington State Department of Health's Nursing Care Quality Assurance Commission.
The Occupational Therapy Assistant program is accredited by the Accreditation Council for Occupational Therapy Education (ACOTE) of the American Occupational Therapy Association (AOTA) recognized by the U.S. Department of Education and the Council for Higher Education Accreditation.
The Physical Therapist Assistant program is accredited by the Commission on Accreditation of Physical Therapy Education (CAPTE) recognized by the U.S. Department of Education and the Council for Higher Education Accreditation.
The Natural Resources program is accredited by the Society of American Foresters (SAF). 
The Computer Reporting Technologies program is accredited by the National Court Reporters Association (NCRA).
Student Learning Outcomes
Green River College is committed to the continuous improvement of teaching and learning. In order to assess the effectiveness of its instructional programs, the college evaluates student achievement of published learning outcomes. Although the expected learning outcomes vary from program to program, all students completing a degree are expected to demonstrate mastery of four campus-wide outcomes: written communication, critical thinking, responsibility, and quantitative and symbolic reasoning. Additionally students planning to transfer to a four-year institution are expected to master the oral communication learning outcome and students completing applied degree programs (AAA and AAS) are expected to master the human relations learning outcome. See 'Campus-wide Learning Outcomes ' in 'Academic Information ' to learn more.
Student Code of Conduct/Student Rights and Responsibilities
As a student of Green River College, you have the responsibility and expectation to maintain an environment conducive to the academic success, safety, and well-being of others. The Student Code of Conduct identifies the rights that are guaranteed individual students and the responsibilities of students in our college community according to state law and college policy. The provisions of the code apply to all students whenever they are on campus or engaged in any college-sponsored activity or function.
To review the Student Code of Conduct, please visit greenriver.edu/student-affairs/judicial-programs.